In this article we are going to introduce top 10 dating apps in Germany.
We all need a friend when we first move somewhere to help us adapt to our environment. Also, sometimes we feel lonely or need to talk to someone after a busy day and share our feelings.
Having a network of friends brings us back to life most of the time and makes the problems we face tolerable. Most of the time, due to spending less time with old friends or being shy about making friends in real life, the number of our friends remains very limited, and the same number is limited to our life and workplace.
Today, with the expansion of the Internet, our problems have become diverse, and we need more friends to solve them.
Also, sometimes to share our feelings we need friends who really understand us and match our characteristics.
All these may seem like problems that are difficult to solve, but today online dating applications have provided conditions where you can increase your number of friends without going anywhere and meeting someone and also in the shortest time.
By using these applications, you no longer have to find your friends only from your city and place of residence. With just a few simple clicks, you can access people similar to your characteristics who may not be in your area. This large expansion of your network of friends makes you more successful when dealing with problems and increasing social relationships.
One of the countries that today has many educated young people and attracts many young immigrants is Germany. The use of online dating websites and applications is increasing in this country today, and it is becoming more popular day by day. In this article, we introduce the top 10 dating apps in Germany.
Top 10 dating apps in Germany
The best and most popular applications that you can use to make friends in Germany are:
1. ElitePartner :
ElitePartner is a developing platform. When you sign up, your profile will be checked and only those who are looking for serious relationships will be accepted for membership. Therefore, your registration process is monitored manually.
The target of this application is mostly educated young people, so most of its users are young people with university education and the average age is higher than other common applications. This application has about four million active users and the percentage of male and female users is equal.
In this application, the quality of the relationships that are formed on the platform is more important than its quantity. For this reason, by offering services such as special photography of you along with discounts and flirting seminars, it increases your match with people similar to you.
Also, the personality test of this application takes approximately 20 to 30 minutes, and with this, your matching rate will increase. This application, as well as its website, only supports the German language.
In its application version, unlike the website, it is possible to search for users near you. Buying subscriptions to this platform starts from 70 euros per month.
2. Parship:
Parship is the most popular and famous dating app in Germany, which started working in Germany in 2001. This application claims that every 11 minutes, a single person enters into a romantic relationship through Parship.
This application is suitable for those who are looking for new and long-term relationships. About 91% of its users are educated and young people. The number of male and female users is equal. Registration on this platform takes about 30 to 35 minutes and, like eHarmony, it has an 80-question personality test.
This application has high security and prevents the creation of fake profiles, so users are less bothered. Using this application is free, but with the free version, you have limited features, for example, you cannot view any photos with it, but by purchasing the premium version, which starts at 45 euros per month, you can access more features.
In this application, your personality will be matched with other users according to your profile and the test you give, and similar people will be introduced to you. There are also tools on this platform, such as dating advice, which will help you create a better relationship .This app is only available in German.
3. LoveScout24:
It is considered one of the largest dating apps and websites in Germany. Your profile in this application is very accurate, so you can find your favorite people more precisely by using the comprehensive search feature.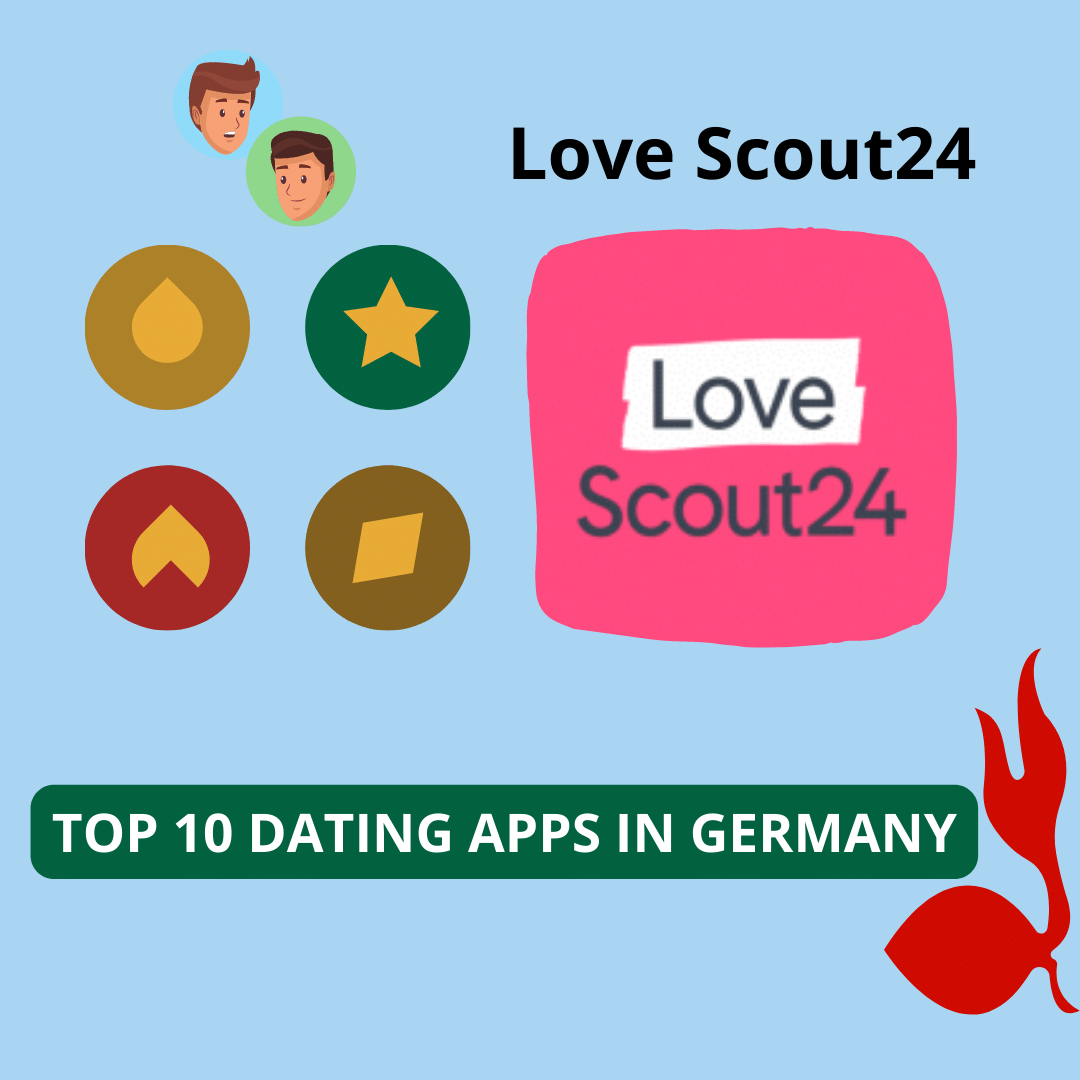 This app supports LGBTQ+ people and has about 200,000 gay members. This application is suitable for people who are looking for long-term and romantic relationships.
This platform has nearly 6 million active users and is only available in German. Membership in this application does not have specific age requirements and the average age of its users is less than 35 years. Buying a monthly subscription starts from about 40 euros per month.
4. EDarling:
EDarling works almost the same as Elite and is used throughout Europe. The percentage of male and female users is almost equal, and it has about 13 million active users in Europe.
This application seeks to establish serious relationships between people, and for this reason, the user registration process is monitored manually .With this registration process, fake users are prevented from joining and the quality of user relationships increases and the percentage of creating serious relationships increases.
Most of the users of this application are young and educated people. After the registration process, you will be presented with a questionnaire of 250 questions, which will take about 40 to 45 minutes to answer, but it will improve your compatibility with other people.
You can also connect with people you don't match with. Registration in this application is free, but by purchasing the premium version, your available features will increase. Buying a subscription starts from about 30 euros per month, which is more affordable than other applications.
5. Lovoo:
Lovoo is one of the most popular and best dating apps in Germany and was designed and built in Germany in 2011. This application works similar to Tinder and is considered its biggest competitor in Europe.
You can check its profiles like Tinder and communicate with your favorite profiles. But unlike Tinder, you can contact the user without matching. In stealth mode we are allowed to check profiles anonymously and also other users near you will be shown to you with "live radar".
You can also make video calls in this application. This application has 28 million active users worldwide.
6. C-Date:
It is one of the largest dating websites and applications in Germany. This application is suitable for people who are looking for casual and friendly relationships. Registration on this platform is checked manually so that first the user has to apply for registration, then your profile is checked and the pictures are approved by supervisors so that your registration is finally done.
This registration process reduces fake and inactive users and increases the percentage of stable and successful relationships. This application has about 35 million active users worldwide and registration on this platform is free. But its premium version is free to buy for women looking for men, while men have to pay a fee.
7. NextLove:
This dating app is for single and divorced parents who are looking for a serious relationship. This application supports English language and has more than 5 million active users across Europe.
Working with this application is very easy and the registration process is free. To register, just send your profile details via SMS to be confirmed. Also, the registration process is controlled by supervisors so that annoying and fake users are less likely to join. The premium version of this application offers you more services and starts from about 20 euros per month.
8. Lablue:
This application has started working since 2002 and has about 500 thousand active users. This platform does not charge any fees for registration and its services and is completely free. Most of its users are over 30 years old.
The registration process is handled manually and profiles are sent via email. Therefore, there are fewer fake users and less disturbance for you during your relationship. This application is suitable for those who are looking for a serious and long-term relationship. The ability to search profiles in this application is given to you by the filters it has.
9. Single:
Single is one of the developing applications and registration is done for free. For more access and services, you need to purchase the premium version, which starts at 25 euros for three months. This application has about two million active users in Germany.
By creating your profile using the options available in the application, you can search for the person you are interested in and start a relationship if they match. Registration on this platform is controlled manually, which reduces the number of fake users and increases successful relationships.
10. PlanetRomeo:
This application was designed and built in 2002 in Berlin, Germany. Initially, it only supported German language, but now it is available in many languages. You can put information such as your personality type, sexuality, personal interests and some photos in your profile. If you are a member of the LGBTQ+ community, this application is for you.
The app claims to have the largest gay, bisexual and trans community in the world. This platform seeks to create a serious relationship as well as a normal and friendly relationship between LGBTQ+ people. You can also have spaces like clubs and groups so that you can find the person you want more easily and share your interest.
The important thing about success in online dating is choosing the right application for dating. Each of the applications that were introduced are effective for certain groups of people.
For example, some of them are suitable for people over 30 years old, and some applications are for educated people. Therefore, you must first determine the purpose of your dating and then choose the best application according to your purpose. You should also consider the security of the platform when choosing an application.
Try to choose an application that provides the best security for your information so that you can safely find the friend you want and trust it and share your information with him.
Also, try to have a complete profile and describe your purpose of your relationship at the beginning so that your success rate in dating increases. Be patient in your dating process and don't wait for your relationship to progress too quickly. Due to the different atmosphere of online dating and dating in the real world, the time needed to trust each other in online dating is more.
Registration in most dating apps in Germany is free, but to continue your relationship, you need to purchase the premium version of the apps. An important and very good thing about dating apps in Germany is manual monitoring of the registration process.
The least inactive and fake users can be seen in these online dating applications. Because its registration process prevents such people from becoming members, and as a result, it increases stable and successful relationships, and also greatly reduces the inconvenience to users.
Therefore, if you are looking for a reliable and successful relationship, German dating apps are your best choice. The security of these applications is very high and will increase the quality of your relationships.
At the beginning of the relationship, there is no safer place to communicate than the application itself. Therefore, try to continue your relationship in the same application until you have gained complete trust in your friends and use the available tools to establish a relationship.
If you have been looking for friends from Germany until now, but you didn't have the opportunity to find them or you didn't know the way, you can easily find your friends using the applications introduced to you. It's enough to join these applications and enter your profile and your desired friend, then start your relationship.