Today, if you need to find new friends or you are looking for a new relationship in your life, you can easily find your friends anywhere in the world through dating apps for free and start your relationship.
In the past, in order to find the friend you want, you had to make friends with the same people in the environment you are in. But this was not your only problem, in fact, you could have been close with anyone randomly at first.
It was possible that the characteristics you expected were not there at all. and your relationship was not known whether it would lead to friendship or not. In the end, you had a network of friends limited to your workplace and life, and you even lost them because of your busy schedule and little time.
But in today's modern world, with the help of the Internet, with a few simple clicks, you can find thousands of different people for friendship who are not only not in your place of residence, but also have the same characteristics that you expect from your friend. This is a big favor from dating apps for free.
Each of the applications has its own users, some of them are only for adults and serious relationships, and some of them can be members of all ages and genders.
In addition, the features of each application are different, sometimes some applications are completely paid and you have to buy monthly and weekly subscriptions for online dating to be allowed to search.
But in some applications, you don't need to pay for online dating, unless you want to benefit from the application's special features. In this case, you have to pay an amount as a subscription. This amount is different in different applications and some of these platforms are fairer.
In this article, we try to introduce dating apps for free that have been able to compete well with non-free apps in the past few years and even outperform them. In fact, most people are looking for dating apps for free.
They tend to find their friends for free at first, and when their relationship becomes serious and they need to find more features, they use the paid version of that application.
Top 10 dating apps for free
The best and most popular free applications that help you in online dating are:
1- OkCupid:
One of the most popular dating apps. With a free membership in this application, you can access countless profiles and communicate with them. By joining this application for free, you can start your relationship only if you have "liked" the other party and he has "liked" you.
But in its premium version, you can see who liked you and who liked you without liking you. Registration on this site is done at all ages. For membership, questions such as age, gender, and the characteristics you want for dating are asked, and finally, with the filters it has, it suggests people with whom you are more likely to be friends. Thus, you increase your chances of meeting your perfect profile.
To buy a monthly subscription, you can start from the lowest price of $35 per month.
2-Tinder:
It is considered one of the applications that is very easy to work with. It is also known as one of the best and most popular applications. This application also has a desktop version that makes it easier to work with it.
With a free membership in this application, you will have access to all profiles. But limited information about the profiles will be displayed to you. By purchasing a subscription, all profiles will be displayed for you in full and you can filter them.
Also, if you like a user, mark his profile with a heart symbol or an X. If that person likes you, you will get a notification and you can start your relationship. One of the positive points of this platform is the interactive space that is useful and attractive for users.
3-Bumble:
One of the applications that has become extremely popular in recent years. In this application, similar to Tinder, profiles are shown to you so that you can find the person you want.
You are also allowed to filter profiles. You can search for the profile you want and then send a message. This application also allows you to use other applications to get help from them for dating, for example, to access an Instagram account or to share music.
In fact, with the space created by this application, people can get to know each other's interests better and make a better choice in relation to their friend. You can get a monthly subscription or even a lifetime subscription by paying $229.99 and get more features of the app.
4-Her:
It is considered the best dating app for the LGBTQ+ community. This application is in development and now has more than 4 million active users. The users of this site are lesbians, bisexual women, and other women who are members of the LGBTQ+ community.
After joining, you can search for the person you want and start your relationship. In this application, you can describe your sexual orientation in a creative way, and you can also describe the purpose and nature of your relationship in this platform to experience faster and better dating.
Working with this application is very simple and you can easily join it with a Google account.
5-Plenty of Fish:
One of the best applications for creating casual relationships. Membership in this application is free and you can start your search after membership. Also, this application has a non-free version, which is actually a customized version.
In the non-free version, there are no annoying ads in the free version, and you are given better filters that can make dating faster and better. But in general, you can do your dating with the free version. To buy a three-month subscription, you just need to pay 12.91 dollars per month.
6-Match:
It is one of the oldest dating applications that has been operating since 1995. Although this application is not completely free, but due to its popularity, it was necessary to be included in this list.
In this platform, by first filling out the membership form, you must enter information such as age, gender, sexual orientation, location, and a photo of yourself. Then you will be given up to 3 days for free to search for the profile you want with the available filters and also the application itself will introduce you options according to your profile.
In these three days, you can send messages to the friends you found. But after three days you have to buy the premium version to send messages and continue the relationship.
Its cost is variable and you have to pay approximately 26 dollars per month. The advantage of this application is its simple user interface and direct relationship with your favorite profile. This site has high security in keeping your information safe, such as your chats, your profile information and your pictures.
7-OurTime:
It is considered one of the oldest and safest applications. This application is for people who are over 50 years old. Also, this application is not completely free like match, but you can have a free membership and access the profiles for free.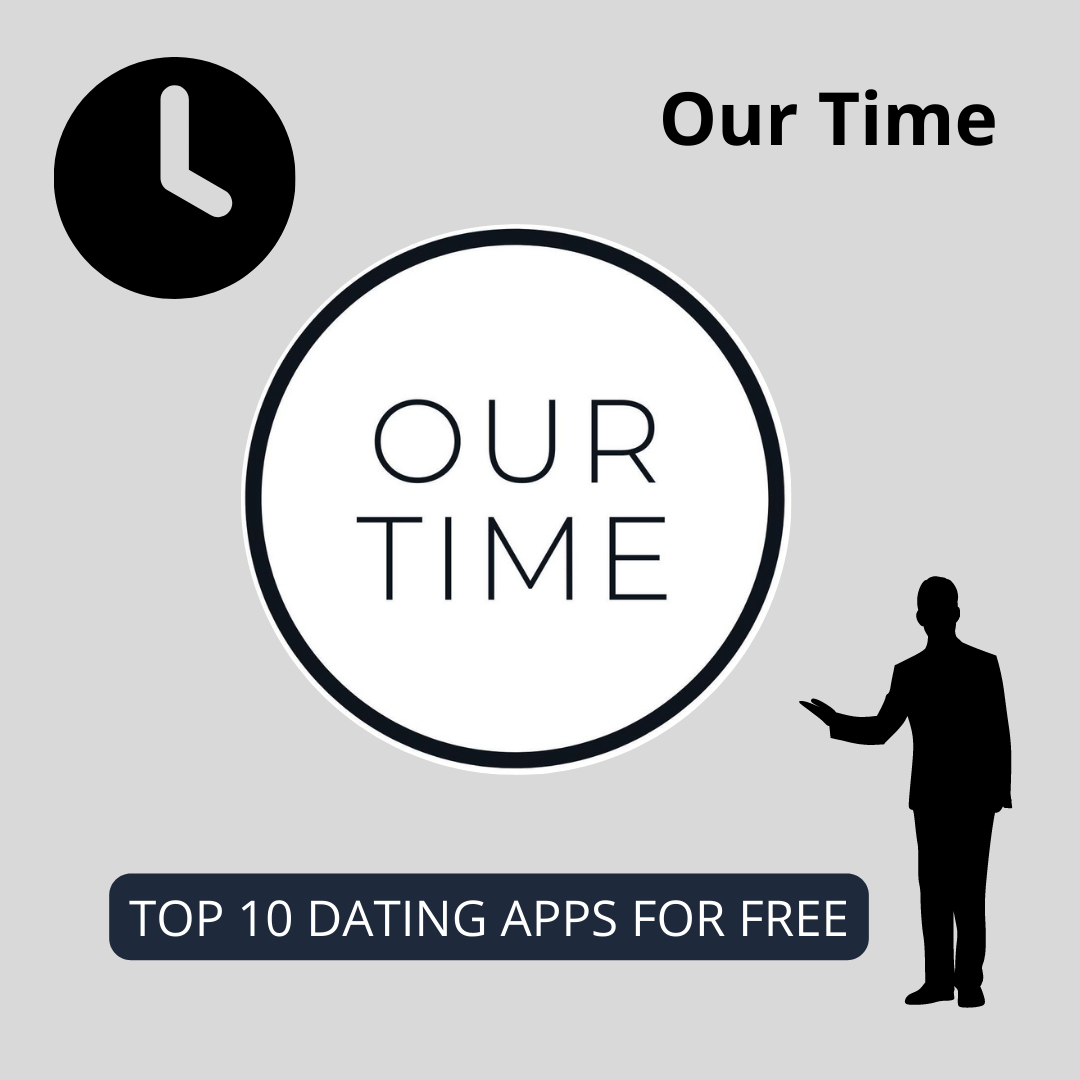 But if you define your dating period as monthly during registration, you have to pay a fee. For example, it starts at about 35 dollars per month and the costs increase as the month increases.
This application is suitable for adults who want to experience a friendly relationship in a safe environment. This platform started working in 2008 and has more than 8 million active users.
8-Hinge:
One of the best free online dating apps. This platform does the dating process with the help of Facebook. Membership and making friends in this application is free.
This site records your information in the profile using an interesting method. This platform defines categories for your features. For example, if you are a smoker, it will categorize it as a vice, or it will package your job and place of residence as virtues.
This application matches you with similar friends through these categories and introduces the closest people to you. You can communicate with them by liking or commenting on the desired profile.
By purchasing the premium version, you can benefit from more services and its purchase starts from at least 29.99 dollars per month.
9-SilverSingles:
This application is developed and managed by Elite. This application is for users who are over 50 years old. Registration and dating in it is free. The membership process has a personality test and a variety of questions.
During membership, you will be asked about your personality and that of your desired friend. For example, the gender, age, and place of residence of your desired friend will be taken from you and it will show you similar profiles.
This application has made a lot of progress in the last few years and has attracted many people and is still being developed.
10-eHarmony:
It is the most famous application that you have ever seen its ads. This application has started its activity since 2001. Registration and access to profiles in this application is free. This application also has a website.
When joining, you have to take a personality test that takes about 25 to 30 minutes. This test forms your profile and matches you with other users. It displays users similar to and close to your test. Most of the users are about 20-35 years old, but there is no age or gender limit for registration.
It has more than 10 million active users. Working with this application is very easy and if you are using online dating applications for the first time, this application is suitable for you.
This application has been the most effective application in creating serious and friendly relationships in the last few years. By purchasing the premium version, you will benefit from more services.
There are a few things to consider when using an online dating app. At first, you should choose your desired application for dating according to the goal you have in mind. For example, the age range of your desired friend has an effect on choosing the application you want.
Of course, some of the applications that were introduced have users with different characteristics that there is no limit for dating in these applications. So you can use these applications if you don't want a specific feature of dating.
After that, you should choose the most reliable of the applications you chose for dating. You enjoy the relationship with your friends when you are sure that your information is safe. Therefore, you should choose the best among the applications.
One of the ways to detect the security of the applications is to search about their history and also the symbols that these applications use for the security of users.
Also, the facilities provided by each of these applications can be effective in choosing them.
For example, maybe using a video call is more important to you than sharing an image, so you should choose an application through which you can make a video call.
Also, each application has users from different regions and provides you with different filters. So again, you should choose the type of filter and the range of users according to your goal.
One of the important points is that until you are sure about your friend, do not remove your chat space from the application and continue your communication in the application.
Because in these applications there are observers who recognize errors and inappropriate behavior of users and block them. Therefore, continue your chat and conversation as much as you can in the space of applications to find complete confidence in your friend.